EFT Newark

EFT in Newark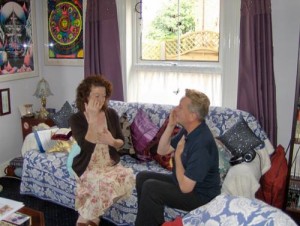 Emotional Freedom Techniques or EFT Newark, is being used by so many people around the world to help with a variety of emotional issues. EFT is a wonderfully simple technique that can taught, and used with in session-work with an EFT practitioner. It can also be used at home as a great form of self-help. It usually takes one  hour to become familiar with it from Dr. Michael G Millett at the `East Midlands EFT Centre` where the technique (EFT) can be a life-long resource for releasing emotional issues such as frustration, anger, confusion, upset and much more.
AMT Master EFT Trainer since 1998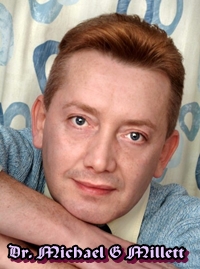 Dr. Michael G Millett is the founder of Elevated Therapy ®, and the `East Midlands EFT Centre`, and one of the founding members, and involved with the development of the AMT which works with EFT Emotional Freedom Techniques, EMO Energy In Motion & other modern energy modalities. The Association For Meridian & Energy Therapies [AMT] was founded in the United Kingdom in 1998 by Silvia Hartmann & Chrissie Hardisty, it was the first organisation established in the world for the study of modern energy work. They are the organisers behind the popular AMT Energy Conference which takes place every year in the United Kingdom, and provide introduction trainings, certification trainings and bespoke trainings for individual people from all walks of life as well as for companies and organisations.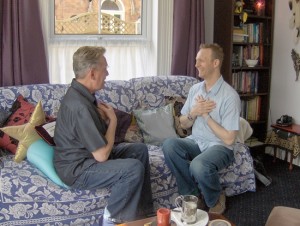 The AMT or GOE (Guild of Energists) as it is known now was formed specifically to safeguard this extraordinary and emergent field from it's inception.
This includes keeping the definition of Meridian Energy Therapies wide open to include not only the currently developed which includes EFT and "Energy EFT" and developing approaches, but to encompass future developments with structural ease, thus fostering an attitude of continuing growth, exploration and innovation.
Michael's was one of the very first therapists to be using EFT in the UK – back in 1996, and brings together the very best ways of working with Ericksonian Hypnosis, NLP, Coaching, Intergrative Psychotherapy, and Psycho-spiritual approaches (Transpersonal and Metaphysics) to his work, and art of delivery.
Since EFT (Emotional Freedom Techniques) evolved in the mid to late 1990's, it has been used on an array of problems including: phobias, physical pain, abuse, trauma, anxiety, depression, addictions, eating disorders, ptsd, chronic fatigue syndrome and a broad range of self-sabotaging behaviour patterns with great success.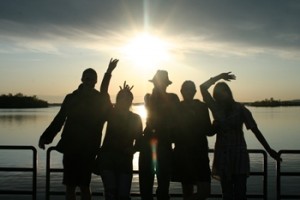 So whether you are a therapist or practitioner looking to master EFT or, Next Generation EFT together with Positive EFT with Michael's latest trainings at EFT Newark, and support work – or are an everyday person interested in using these techniques for your own personal needs, Michael would love to welcome you to Grantham's Town Centre, and teach you, thus helping you on your journey to heal physically, emotionally, and spiritually.
Dr. Michael Millett is an Emotional Freedom Techniques Master Practitioner and Trainer's Trainer.
He is a Member of The AMT and has his practice at the prestigious "Clinic of Hypnotherapy and Holistic Practices" at `Tipperary House` in Dudley Road in the centre of Grantham. He also offers Skype and telephone sessions so that distance is no impediment to you getting the very best EFT training, and input.
He is a trained integrative psychotherapist, and counsellor, a senior accredited and supervising hypnotherapist, NLP Practitioner, Reiki Master, Life Coach, and Transpersonal Therapist and was in successful private practice in central London for 17 years before relocating to Grantham in 2011.
By combining the skills, qualifications, intuition, and experience he has gained over many years working as a therapist and trainer in the heart of London, he has developed a unique and successful style and approach for helping both adults and children individually and in groups on every level to bring the work of EFT in Newark to the people of Nottinghamshire, and the whole of the East Midlands from Grantham.
Michael runs professional training courses and workshops, teaches groups, sees individual clients both in person and on Skype nationally, and internationally, and he is developing, and integrating his work all the time.  (visit the main EFT area below – to know more) !
What can I Use EFT For?
Below are just a few conditions that EFT can help with.
Addictions and Cravings
Anger Management
Anxiety
Concentration
Confidence
Depression
Exam Nerves
Insomnia

Grief and Loss

Pain Management
Phobias
PTSD
Public Speaking
Relationship Issues
Self Esteem
Sports Performance

Traumatic Memories
One of the amazing facets about EFT is that you don't need to believe in it for it to help you. All you need is to be open, and curious, and be willing to use it – you will then notice the changes in yourself, your feelings, and your thinking !


Dr. Michael G Millett, one of the first therapists in the UK  to be using EFT since 1996. Master EFT trainer since 1998 – now bringing professional EFT Sessions and Training to the people of Grantham, Newark, Lincolnshire, Nottinghamshire, and Leicestershire – including Sleaford, Bingham, Stamford, Bourne, Oakham, Rutland, and Melton Mowbray.
Contact Michael, and Elevated Therapy for:
EFT Therapy Newark
EFT Professional Training Newark
EFT Practitioner Newark
EFT Course Newark
Positive EFT Newark
EFT Newark
EFT in Newark
Emotional Freedom Techniques Newark
Emotional Freedom Technique Newark
EFT for Children in Newark
EFT for Teenagers in Newark
EFT Master Practitioner Newark
Newark EFT
EFT Sessions in Newark
EFT Training in Newark